Euphorbia
Euphorbia lactea cristata, is an easy-to-grow succulent, resulting from the grafting of two species. That is, two plants in one! Its upper part is Euphorbia lactea and its color is silver-grey, which can turn reddish if the plant is happy in its environment. Its lower part is usually Euphorbia neriifolia. Its shape resembles a coral and resulted from a normal mutation of Euphorbia lactea and is also known as Coral plant. Prefer bright spots in the growing area. With gradual acclimatization, it can also live in direct sunlight.
Due to its nature, it does not need frequent watering. Apply watering when the substrate is completely dry, and if you are not sure that it is dry, it is better to leave it for a few more days. In winter, when the plant enters a state of dormancy, watering should be reduced or stopped.
More Products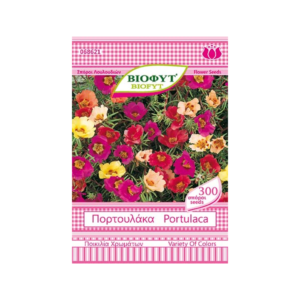 Portulaca, also known as silk, is an annual ornamental plant ideal for ground cover in rock gardens, but also for planting in hanging pots on the balcony. Portulaca originates from Brazil and is characterized by creeping vegetation and fleshy oval leaves. The impressive flowering of purslane lasts from spring to autumn, with single or double flowers, monochrome, two-color and even three-color, in shades of yellow, pink, orange, red and white. Portulaca has no particular soil requirements, although it prefers fertile soils with good drainage.